Cleanroom Decontamination
Phileas 
Biological Decontamination Solutions
Philias is, airborne surface disinfection system designed and developed in France by DEVEA. The system uses the principle of centrifugation as a means to produce an extremely fine fog (micro droplets technology) capable of spreading everywhere in a homogeneous way.
This is a very efficient and reliable system, which allows easy automated decontamination of even hard-to-access spaces.
The disinfectants used are O2safe+® and Phileasafe®, which are both free of additives. The only residues remaining at the end of the disinfection cycle are water and free oxygen molecules.
All products are easy to use, safe, effective and non-toxic. It completely transforms decontamination without the need to use formaldehyde and other aggressive chemicals.
Use
Philias system can be used in a range of healthcare locations like  patient room and ward, surgical suites, maternity units, intensive care and high dependency units, and all clinical areas considered to be at risk.  It is also suited for use in pharmaceutical and, and biotechnology applications, animal facilities, and the agriculture/food and cosmetic industries. 
The standard cleaning techniques do not eliminate all the pathogenic micro-organisms (antibiotic resistant bacteria). Following a bio-clea-ning, the sites can still
be contaminated and, in many cases, can even provoke the contamination of other sites. Micro-organisms are potentially present in or  on transfer systems for patients, stretchers, furniture, room surfaces, rooms and corridors, etc. The Phileas perfectly integrates in any bio-cleaning procedure and more generally in all infection risk management strategies.
 It is  suitable for disinfecting medical equipment, biosafety cabinets, isolators, incubators, freeze-dryers and sterilizing ovens, in addition to serving hatches and airlocks.
A typical safety cabinet decontamination will take less than 3 hours and is totally safe to use immediately.
Phileas 25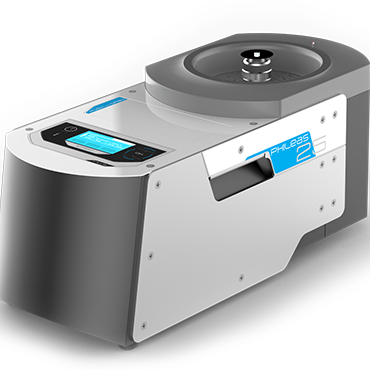 The Phileas 25 is mobile unit  for airborne disinfecting of surfaces, and operates by means of a centrifugation nebulising system. This is Strong and light weight . 
The unit has dual power option . Can be operated with mains power or battery. It offers the option of pre-programming cycles . It can be operated remotely via tablet.
The Phileas 25  is a compact airborne disinfection unit which can treat areas ranging between 1m3 and 40m3. The whole disinfection cycle ends in full degradation into free oxygen molecules and water, which are the only residues.
Features
Excellent performance with a NiMh battery that lasts for 2hrs 30 minutes;
Battery charge time – 6 hours
Very little ongoing maintenance
volume of treatment - 40 cubic metres
Tank capacity - 500 ml
CE Compliant
Flow rate - 500 ml/h
Granulometry: 5 −> 10 μm
Materials are compatible with Hydrogen Peroxide (H2O2).
Phileas 75
Philias 75 has high diffusion capability appropriate for average size rooms and volumes. It is easy to move around on its own wheels with a retractable handle.
Similar to other models, this unit can be fully pre-programmed and can run remotely. Programmes are easy to set.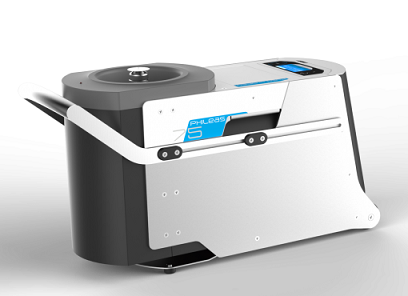 Features
volume of treatment – 10 to 180 m3
Needs only minimal maintenance
Very quiet during operation
Flow rate - 1200 ml/h
Tank capacity - 2L;
Granulometry - 5 −> 10 μm
CE Compliant
Materials compatible with Hydrogen Peroxide (H2O2).
Multi-diffusion cycles
Dimensions (L x l x h): 280 x 196 x 208 (mm)
Weight: 7kg.
Phileas Genius
Phileas GENIUS is designed for the treatement of small volumes in the pharmaceuticlas, food and chemical industries. It has small size , but gives optimum results . Specifically designed foot support which makes Genius orientable and height adjustable . Long energy autonomy due to its' NiMh battery
Adapted flow rate for very small spaces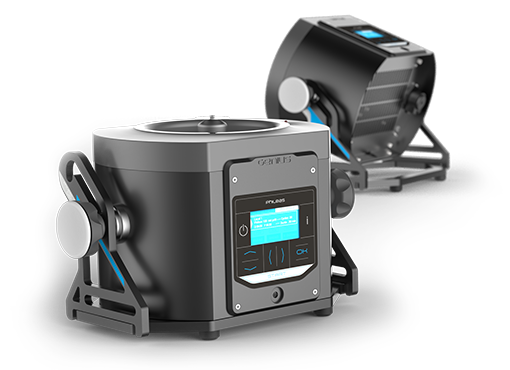 Features
Great performance with a NiMh battery that lasts for 2hours 30minute
Requires very little maintenance
Time to charge the battery - 6hours
volume of treatment - 0.2 to 10 m3
Granulometry - 5 −> 10 μm
Flow rate - 300 ml/h
Tank size - 250 ml
Materials compatible with H2O2 (hydrogen peroxide)
CE Compliant
Dimensions (L x l x h): 586 x 210 x 324 (mm).
Weight: 8kg
T
hanks to its rotating head and height-adjustable foot, the Phileas  Genius can be simply inserted into freeze dryers, isolators, biosafety cabinets, serving hatches, sterilising ovens or double-door locks.
Phileas 250
Phileas 250 is particularly designed for demanding environment such as industrial facilities and Laboratories with large volumes. it can treat multiple rooms at the same time. The powerful distribution provided by its two heads ensures a fine, homogeneous mist . It has liquid usage inidicator and large capacity reservoir. 
Manoeuvrability and mobility combined with robustness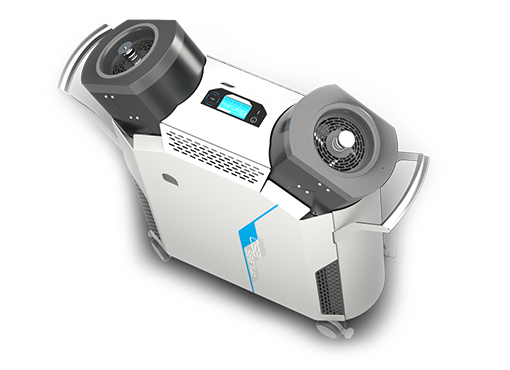 Features
Very quiet
Needs very little maintenance
volume of treatment -50 to 800 m3
Flow rate - 3 L/h;
Granulometry - 5 −> 10 μm
Tank - Either 5L or 10L capacity
Materials compatible with Hydrogen Peroxide (H2O2)
CE Compliant
Dimensions (L x l x h): 825 x 250 x 812 (mm),
Weight: 25kg. 
Application 
The Phileas 250 can be used in healthcare locations and any clinical area designated as 'high risk'. It can be used in  the pharmaceutical, agri-food and cosmetic industries. also in  biotechnology and animal facilities.  
 The air exhaust located at the bottom rear part of the cabinet is installed with a high efficiency NEPA filter. Total of 30% of air is exhausted. This creates natural inflow through the front sash opening, creating air barrier and containing the product sampled in the cabinet.  One side of cabinet is constructed from double glass wall to form return air plenum. 
Disinfectant Products
Airborne surface disinfection (ASD) is a device-product pair. This machine cannot be dissociated from the disinfectant.
Most of the disinfectants used are based on hydrogen peroxide or a mixture of hydrogen peroxide and peracetic acid, preferably ready for use.
As it is a biocide, its use is highly regulated (European biocidal directive) and must have obtained a MA (Marketing Authorisation) or registration. This authorisation, although it may be valid for contact disinfection, must also indicate a use in ASD.
The NFT Standard 72281 version 2014 defines the effectiveness of a ASD process on bacteria, moulds, yeasts, bacterial spores and viruses with an effective single dose.
PHILEASAFE and O2SAFE are  two disinfectants that were the subject of these successful tests according to Standard 72281, version 2014 with the PHILEAS process.